Registrations
We now manually approve all new user accounts due to a large influx of spam bots. Accounts are normally approved within 48 hours.
If you need any help with using this Wiki, please ask here: TalkFord.com Wiki Submission Forum
Stereo Connectors - Pre-Facelift
From www.FordWiki.co.uk
The Ford Mondeo hit our roads in 1993, and has consistently been a sales success. Now on its 4th incarnation, it remains a drivers favourite.
For more information, visit the Ford Mondeo forum on TalkFord.com, the definitive resource site covering all Fords from the present day to the 1970's.
---



Overview Guide

Ford Model:
Mondeo
Petrol/Diesel:
????
Estimated Cost:
????
Difficulty?
????
How long does this take?
????
Note: This wiring information does not cover pre-facelift Navigation Systems, although some of the information may still be relevant/correct
The following figures illustrate the basic connector layouts and give pin numbers which correspond to the lists below.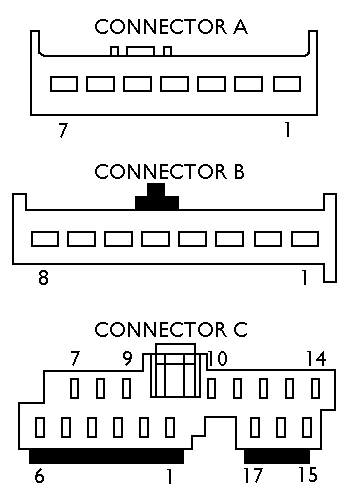 Connector A (C483)
Power (with RSE = C489)
Pin 1 (Orange/Black) Battery + (From Fuse F72) (20A)
Pin 2 (Black/Yellow) Keycode Ground
Pin 3 (Blue/Black) Ign. Sense (Accessory) (From Fuse F69) (7.5A)
Pin 4 (Orange/Black) Illumination
Pin 5 (Black/Orange) Alarm Sense (From GEM)
Pin 6 (Black/Green) Ground
Pin 7 (Orange/Green) Not Used on C483 / To multimedia control module on cars with Rear Seat Videos (C489) / To telematics module on cars with phone prep (C1003)
Connector B (C484)
Speakers
Pin 1 (White/Black) Left Front –
Pin 2 (Grey/Black) Left Front +
Pin 3 (White/Violet) Left Rear –
Pin 4 (Grey/White) Left Rear +
Pin 5 (White/Red) Right Front –
Pin 6 (Grey/Red) Right Front +
Pin 7 (White/Right) Rear –
Pin 8 (Grey/Right) Rear +
Connector C (C485)
Data
Pin 1 (Grey/Black) Telematics
Pin 2 (Blue/Yellow) Telematics
Pin 3 Not Used
Pin 4 (Black/Red) Telematics - When fitting Handsfree phone kits, this is where the stereo mute wire goes
Pin 5 (White) Telematics
Pin 6 (White/Green) VSS
Pin 7 Not Used
Pin 8 (White/Red) Telematics
Pin 9 (White/Red) Telematics
Pin 10 (Green/White) Reverse Sense (For Navigation)
Pin 11 (White/Black) Steering Column Remote Stalk
Pin 12 (Brown/Yellow) Steering Column Remote Stalk
Pin 13 Not Used
Pin 14 Not Used
Pin 15 Not Used
Pin 16 (White/Green) Data Link Connector
Pin 17 (Black/Green) Restraints Control Module / Telematics

Submitted by DJAZS