Registrations
We now manually approve all new user accounts due to a large influx of spam bots. Accounts are normally approved within 48 hours.
If you need any help with using this Wiki, please ask here: TalkFord.com Wiki Submission Forum
Daytime Running Lights
From www.FordWiki.co.uk
The Ford Mondeo hit our roads in 1993, and has consistently been a sales success. Now on its 4th incarnation, it remains a drivers favourite.
For more information, visit the Ford Mondeo forum on TalkFord.com, the definitive resource site covering all Fords from the present day to the 1970's.
---



Overview Guide

Ford Model:
Mondeo
Petrol/Diesel:
????
Estimated Cost:
????
Difficulty?
????
How long does this take?
????
Mk3 Daytime Running lights
Background
This mod basically turns on the Sidelights/Dipped Beam headlights as soon as the ignition is in the accessory position or the engine is running even with the headlight switch set to the OFF position.
This mod is switched off as soon as you turn the headlight switch to any other setting than the OFF position.
Parts
Required
Single Pole Single Throw Relay.
Wire ( The amount required will change depending on where you mount the relay ).
Crimp Connections ( types & amounts change depending on how you wire it )

These make life easier for fitting
Scrapyard Headlight Switch Plug ( for the connection plugs from it )
Method
Wire up the relay as shown in the following diagram ( using suitable connectors from the headlight switch plug for pins 4 & 15 of the headlight switch one of these connectors can also be used on C501 too )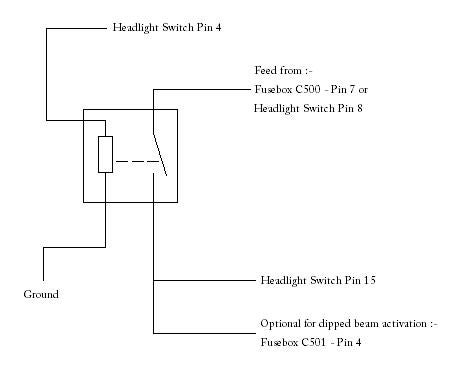 Connection to C500 in the diagram is via your preferred method of joining wires.
the connection C500 & C501 you need is shown in the following image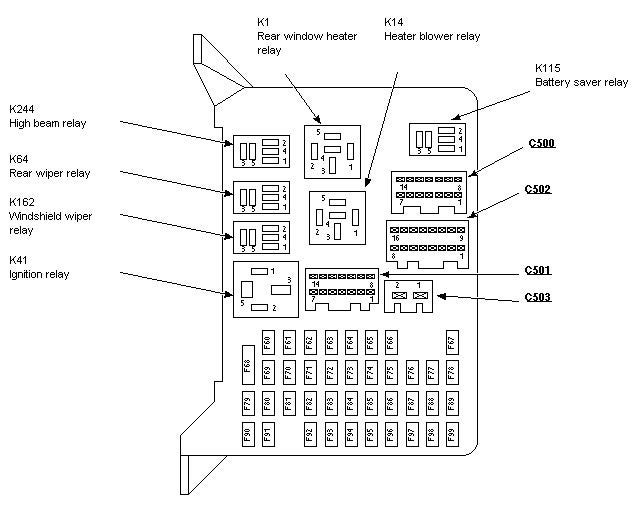 Once those connections are made & the relay is in place then that should be it complete.
Odd Quirk's You Need To Be Aware Of
If you have the drivers door open when you turn the ignition on then you will get a single chirp from the Lights Left ON warning system before it figures out what's happening & switches off, with the door shut this problem does not happen.
Autolights Add-on Unit
If you have Xenon headlights ( either factor fit/retro-fit ford units or a kit system ) then you may not want the xenons running all the time during the day so this little add-on will help keep the wear & tear of the bulbs to a minimum by only bringing the xenons on when they are needed.