Registrations
We now manually approve all new user accounts due to a large influx of spam bots. Accounts are normally approved within 48 hours.
If you need any help with using this Wiki, please ask here: TalkFord.com Wiki Submission Forum
Clutch replacement
From www.FordWiki.co.uk
Changing the Clutch on a Mk.3 Mondeo (WORK IN PROGRESS)
After attempting this job myself, on a drive way with minimal tools, I thought it would be helpful to post up the steps involved.
Please bear in mind that my approach may not necessarily be the best way of doing it, but it worked for me! Also bear in mind that these steps were carried out on a 54 plate 6 speeed TDCi model - although most 4 cylinder petrol cars will be similar, the intermediate steps will differ (no turbo pipes, different EGR pipes, gearchange cables and selector positions etc etc)
To do this job, you need a minimum of the following:
At least one quality trolley jack (I used two for the job, it made it a lot easier to raise and lower the engine to disengage and re-engage the gearbox
Stands
Some sort of engine support (300kg version will suffice as long as you are careful, although i found the Sealey model was a bit narrow; it did still work though)
some heavy duty ratchet straps (I used 3)
Set of Vortex sockets (standard may suffice, but makes this job a LOT easier when removing the drop links, when you need to hold the stud!)
Set of male and female Torx bits and sockets
Set of spanners - ratchet preferably
Screwdrivers
Good quality wire brush, paintbrushes for cleaning.
Plenty of clutch/brake cleaner and rags to keep things from leaking and for keeping things clean!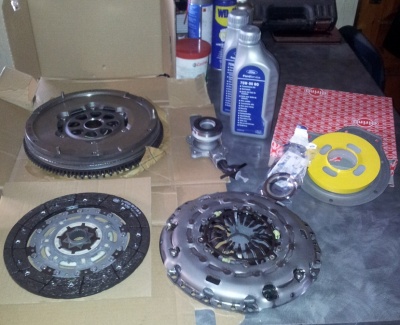 Full clutch kit - DMF, friction plate, Pressure plate, CSC Slave Cylinder)
Driveshaft oil seals
Clutch fluid (I used the genuine ford stuff, you need 1.6L for the TDCi 6 speed. Its worth buying the Ford stuff
Crankshaft oil seal (clutch end obviously!)
Decent thread locking fluid
Anti seize compound