Registrations
We now manually approve all new user accounts due to a large influx of spam bots. Accounts are normally approved within 48 hours.
If you need any help with using this Wiki, please ask here: TalkFord.com Wiki Submission Forum
Cigarette lighter bulb change
From www.FordWiki.co.uk
The Ford Mondeo hit our roads in 1993, and has consistently been a sales success. Now on its 4th incarnation, it remains a drivers favourite.
For more information, visit the Ford Mondeo forum on TalkFord.com, the definitive resource site covering all Fords from the present day to the 1970's.
---



Overview Guide

Ford Model:
Mondeo
Petrol/Diesel:
????
Estimated Cost:
????
Difficulty?
????
How long does this take?
????
Getting the ashtray and cigarette lighter assembly out to change the bulb, clean it up or access wiring underneath is simple, but not totally obvious the first time you do it.
The whole top surface of the ashtray surround comes away from the centre console. If it's the first time it's been removed, it may be quite stiff and a bit scary to pull. Get your fingernails in the gap and prise it upwards thus: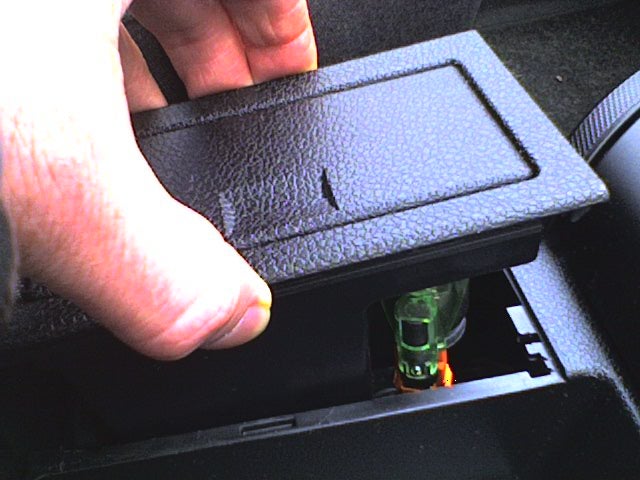 The rest should be obvious. The bulb is a small 286 type. Remember that the cigarette lighter is live at all times in the factory configuration, so don't go putting screwdrivers in it. It's possible to make it ignition-live only if you want, by moving fuse F68 up one position in the glovebox fuse box - butt it up to K41 relay rather than fuse F79.