Registrations
We now manually approve all new user accounts due to a large influx of spam bots. Accounts are normally approved within 48 hours.
If you need any help with using this Wiki, please ask here: TalkFord.com Wiki Submission Forum
Alloy Wheel Refurbishment - Recommended Companies
From www.FordWiki.co.uk
For more information, visit TalkFord.com, the definitive resource site covering all Fords from the present day to the 1970's.
---



Overview Guide

Ford Model:
All
Petrol/Diesel:
Both
Estimated Cost:
Varies
Difficulty?
Easy
How long does this take?
N/A
Based on this thread on STdriveRS.co.uk
---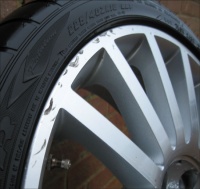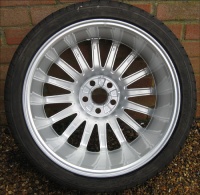 Wicked Wheels
Located in Guildford, Surrey.
The Process
1. The Diamond Cut process involves acid stripping the wheel back to the bare alloy finish.
2. Any dents or deep scratch marks are filled using a TIG welder.
3. Then the wheel is placed in a lathe with a diamond tip cutter to refinish the wheel and give the highly polished finish effect.
4. The wheel is then given a 2 pack lacquer coat applied by using electrostatic powder coating techniques.

The whole process takes 4 days to complete and the finished result as you can see is impressive.
I was charged £55+vat (£64.63) for my ST wheel
Be aware
Some companies will offer to refurbish your ST alloy but will paint the whole wheel silver instead of "Diamond cutting" and it won't match your original wheels.
:::: Price Update April 2008 ::::
I just called WickedWheels to confirm their current pricelist for refurbishing alloy wheels and the new prices are below:
1x Powdercoat Finish = £55+vat 1x Platinum Finish = £65+vat 1x Diamondcut Finish = £95-105+vat dependent on damage to rim.
The whole refurbishment process has changed with regards to diamond cut profiling and their prices reflect this and have unfortunately doubled since my experience with them in February 2007.
Makes me think next time I kiss my alloys against a kerb I will probably use the services of:
http://www.wheelrefurbishing.co.uk/
as recommended by bobren55
I just spoke to BJV Engineering and the prices quoted for a ST TDCi/ST220 are as follows:
Diamond Cut Process
4x Diamond cut Refurb with tyres fitted £260 inc vat
4x Diamond Cut without tyres fitted £220 inc vat
4x Diamond Cut and leave your car with them (5 day turnaround) £300 inc vat.
The Diamond cut process can only be done a maximum of 2 times due to the cutting of the material away.
Powder Coat Silver Finish
4x Powder Coat with tyres fitted £180 inc vat
4x Powder Coat with tyres not fitted £140 inc vat
4x Powder Coat and leave your car with them (5 day turnaround) £220 inc vat