Registrations
We now manually approve all new user accounts due to a large influx of spam bots. Accounts are normally approved within 48 hours.
If you need any help with using this Wiki, please ask here: TalkFord.com Wiki Submission Forum
Fuse & Relay Information
From www.FordWiki.co.uk
The Ford Mondeo hit our roads in 1993, and has consistently been a sales success. Now on its 4th incarnation, it remains a drivers' favourite.
For more information, visit the Ford Mondeo forum on TalkFord.com, the definitive resource site covering all Fords from the present day to the 1970's.

Courtesy of TalkFord.com
Ford Model:
Mondeo Mk3
Estimated Cost:
N/A
Difficulty?
N/A
How long does this take?
N/A
Quick Note About This Information
This information is mostly derived from the 2000-2003 model ( pre-facelift ) Mk3 Mondeo Haynes manual, newer model Mondeos may have differing fuse sizes to the ones stated - these will be updated whenever found to be different.
Engine Bay Relay Layout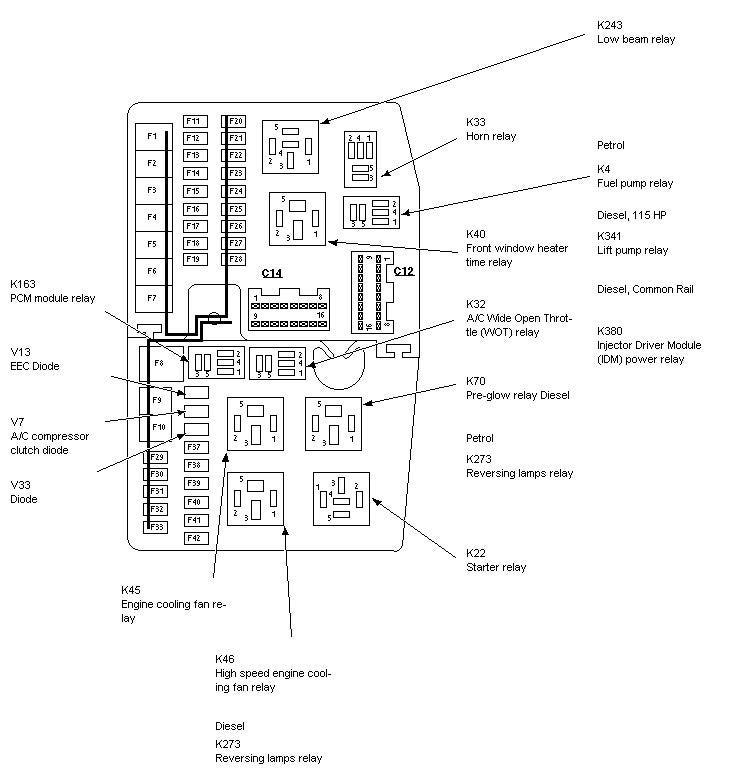 Engine Bay Fuse Information
F1 - 30A - ABS.
F2 - 50A - Ignition Relay
F3 - 60A - Diesel Engine Heater
F4 - 30A - Heated Rear Window
F5 - 20A - Heated Seats (Facelift only)
F6 - 40A - Heater Blower
F7 - 50A - Main Power
F8 - 60A - Engine Cooling, Pre-glow relay
F9 - 20A - PCM Relay
F10 - 40A - Engine Cooling
F11 - 30A - Heated Windscreen

F13 - 30A - Heated Windscreen

F15 - 3A - Heated Windscreen
F16 - 20A - LH Xenon Headlight - 7.5A - LH Halogen Headlight
F17 - 10A - Automatic Transmission
F18 - 20A - RH Xenon Headlight - 7.5A - RH Halogen Headlight
F20 - 20A - ABS
F21 - 15A - Light Switch
F22 - 20A - Headlight Cleaning Relay
F23 - 7.5A - Battery Backup Sounder ( petrol ) - 15A - Injection Relays, Booster Heater (diesel )
F24 - 20A - Central Timer Unit - ( may have some bearing on Direction Indicators & Hazard Light Function )
F25 - 15A - Central Timer Unit - ( may have some bearing on Direction Indicators & Hazard Light Function )
F26 - 20A - Horn Relay
F27 - 15A - Fuel Pump Relay, Windscreen Heater
F28 - 20A - Ignition Switch - ( Main Power Feed To Headlight Switch For Sidelights & Such )
F29 - 30A - Starter Relay
F30 - 7.5A - Alternator
F31 - 7.5A - Air Conditioning
F32 - 3A - Automatic Transmission, Engine Control Module
F33 - 7.5A - PCM Module Relay

F37 - 15A - Oxygen Sensor

F40 - 7.5A - Engine

F42 - 10A - Engine
Glovebox Relay Layout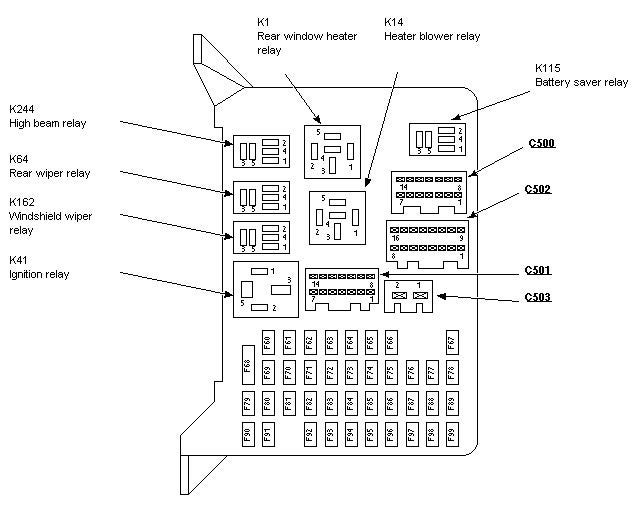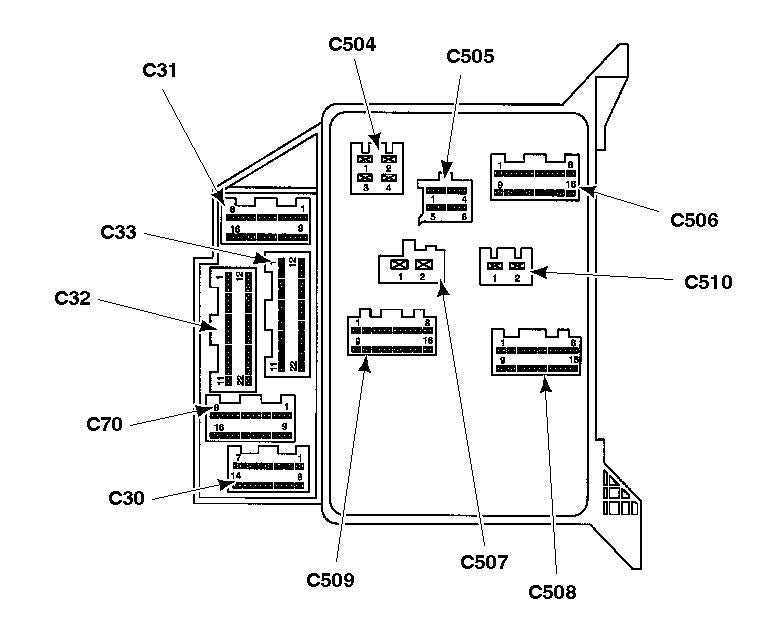 Glovebox Fuse Information
F60 - 25A - Electric Windows
F61 - 25A - Electric Windows
F62 - 15A - Light Switch
F63 - 7.5A - Direction Indicators - ( may be related to the headlight switch & not indicators ) - Front & Rear Sidelights One Side Of Car
F64 - 7.5A - Direction Indicators - ( may be related to the headlight switch & not indicators ) - Front & Rear Sidelights Other Side Of Car
F65 - 7.5A - Air Conditioning
F66 - 30A - Drivers Power Seat
F67 - 7.5A - Alarm
F68 - 15A - Cigarette Lighter
F69 - 7.5A - Radio, Instrument Cluster
F70 - 15A - RH Rear Power Point ( Estate Models )
F71 - 10A - Rear Seat Entertainment (Video Screens)
F72 - 20A - Radio
F73 - 20A - Sunroof
F74 - 20A - Trailer
F75 - 7.5A - Electric Mirrors
F76 - 7.5A - Air Conditioning
F77 - 7.5A - ABS, Traction Control
F78 - 7.5A - Instrument Cluster, Airbag
F80 - 7.5A - Automatic Transmission, Reverse Lights
F81 - 7.5A - Temperature Sensor, Automatic Transmission, Seat Sensor
F82 - 7.5A - Air Conditioning, Windscreen Washer Heater, Booster Heater, Cruise Control
F83 - 15A - Heated Seats
F84 - 20A - Light Switch
F85 - 7.5A - LH Headlight - Full Beam
F86 - 7.5A - RH Headlight - Full Beam
F88 - 15A - Low Beam Relay, Light Switch ( Common Power for BOTH dipped beams & also power for FULL beam Relay too )
F89 - 7.5A - Airbag
F90 - 15A - Rear Wiper Motor
F91 - 7.5A - Electric Windows, Dimming Mirror, Sunroof
F92 - 10A - Trailer
F93 - 10A - Headlights, Brake lights, Heater Blower Relay
F94 - 20A - Wash/Wipe
F95 - 7.5A - Low Beam Headlights - Headlight Cleaning Relay
F97 - 7.5A - License Plate Lights, Glove Box Light, Central Timer Unit
F98 - 7.5A - Electric Mirrors, Heated Mirrors
F99 - Pre-Facelift 7.5A / Facelift 10A - Interior Lights
F100 - 7.5A - Multimedia Module ( Inline fuse under the centre console - Pre facelift mondy )

F101 - 3A - CD Changer ( Under the passenger front seat - Pre facelift mondy )